Listing of products available through a "Master Facility."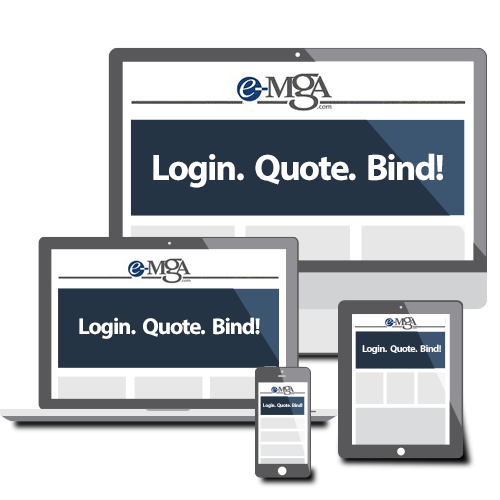 Technology
To succeed in today's environment your General Agency must have a way to seamlessly process your business. This means to quote, bind, underwrite, access policy accounting and deliver policies in one step. Your retail agents log on, your General Agency logs on and the carrier logs on, all to one system. Staying this connected adds a new dimension to saving time and money, such as "quote to bind ratios." No more need to take up your retailer's time chasing quotes.
"Since we have used this technology, we have increased our production over 100% and reduced staff. We went from 12 people working on 800 policies a month to 3 people producing over 2,000 policies per month. " – Wes Sheffield, Amelia Underwriters
At e-MGA we understand that every agency is unique and has needs that require custom solutions. Our programmers take the time to learn about your agency and design software that works specifically for you.
Features
Some of our system features:
Contains insurance markets including company rates, underwriting rules, forms and policy jackets. No need to keep the system updated. The system will always be automatically ready to go when you log in.
Automated policy jacket "stitcher". Seamlessly attaches all forms for a policy jacket and sends them electronically to your agent and their insured.
Online statements – Allows your agent access to their commission statement as well as your own GA's statement.
Online document imaging and storage.
QB Integrating
Coverholder repassing Lloyds
Risk Level Data
Ca rep enrolled by MGA
Backup and recovery solutions provided